I've decided to do something a bit different for this week's Living Arrows and use this picture of the boys. This is the view I see most; the back of their heads. Look familiar to anyone? Whether it's because they're running away from me or they're looking ahead at something that is far more fascinating than my face, it makes me miss the parent facing pushchair days. Oh boy does that feel like a long time ago.
I miss that.
I miss that they don't want to see me like that any more. I miss that I don't get to look down on their faces when they've fallen asleep being pushed along. I miss that they don't want to be cooed and ahhed at – they just want to run off and roar at a pigeon instead. I miss that I can tuck them in all snug. I miss that they were in the same place I left them if I turned my back for more than a second. I miss the ease of having a baby. I miss my babies. I really miss by babies.
I miss my babies but I am more in love with my growing boys. They are growing up together. Don't get me wrong they have their moments with each other but individually they make me burst. Ok, sometimes with rage but mostly with pride! I love their personalities, I love the little quirky things they do and they are mine. All mine.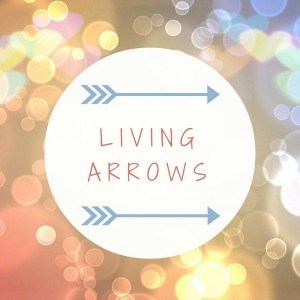 If you've not joined in with Living Arrows yet, it's one of the linkies that I'm actually managing to stick with this year. A picture of the boys each week telling us a little bit of whatever you fancy; whether they've been poorly, been utter superstars or have done something really amazing, its's nice to keep a little piece of them every week and look back next year.
Oh, and while I love my growing boys, I wouldn't say no to another baby. Well, actually, for now I would, but I wouldn't rule it out in the future….