Look. Let's be honest. Kids are pretty fussy eaters. Well, one of mine is anyway. I really struggle to get Toby to try new foods, he sniffs everything first and that usually decides whether he likes it or not. The one thing I find most difficult is snacks, and healthy ones at that. Toby's quite happy to eat a lot of rubbish; crisps, chocolate, biscuits and more crisps but can I get him to eat one bit of fruit? No I can not. So for me it's about trying out new methods when it comes to getting him to try things, or hiding the goodness is something that he will eat.
Naturelly is a fruity jelly juice snack that's sweet by nature only! Made from fruit juice and a special gelatine free gum these jelly juices are a wonderful mid morning or lunch time snack. Ahead of Toby starting school in September I really want to ensure that if he does go with a lunch box that he's getting plenty of variety which I know is going to be quite a task. I'm just hopeful that if he sees his peers eating things that he might be inclined to give them a go too.
Naturelly are a school approved product, as well as being approved by the vegetarian and coeliac societies. It's free from the top 14 allergens and they come in three yummy flavours; summer fruits, tropical fruits and apple and blackcurrant. I've been keeping them to hand in our day out bag in case the boys fancy a little something to tide them over; the fact that they're also hydrating is an added bonus.
With this weather, a fab little tip is to pop them in the freezer. You can cut them straight open once they're frozen and they make for a really nice ice lolly, or you can wait until they've gone a bit slushier to whip the cap off. They're really refreshing whichever way you have them and the best bit? If you have them in the car, they don't spill everywhere like water – woop woop!
I recently had the chance to speak with Joanne Dempsey, the Naturelly mama herself and I asked her a few questions about Naturelly. Find out if any new products are coming our way!
When did you have the lightbulb moment to come up with Naturelly?
Trying to find healthy snacks was always challenging for us; especially when on days out or picking our girls up from school and nursery. Then tears and tantrums would follow. We needed an on-the-go refreshment that would fill them up just a little, until dinner time. So, we put all of our crazy brains together to find out the stuff our kids loved and this led us to the idea of creating Naturelly. Jelly and juice, simple!
It's free from the top 14 allergens; was this an accident or was it made with the knowledge that you wanted all children/adults to be able to try Naturelly?
When having a child with an allergy you become very aware of what goes into foods. This is why we wanted to create our yummy jelly with natural ingredients with no added sugar or sweeteners and approved by the vegetarian and coeliac society.
How did you discover the gellan gum?
Gellan gum comes from lily plants and is a natural dietary fibre, we use it to thicken our juice to a jelly, this makes it suitable for vegans, vegetarians and anyone with dietary restrictions.
What's your favourite flavour of the Naturelly jelly juice?
'Trops' aka tropical fruit flavour which is made from a blend of not from concentrate apple, orange, pineapple and passion fruit juice. It has the 100% recommended daily allowance of Vitamin C and is super yummy and super immune boosting. My personal favourite way to eat it is frozen. I pop a few in the freezer and then snip off the top and you have a great natural jelly slush/ice pop, perfect for this hot weather!
Are there any plans to expand your product line?
Yes, we are always looking at new flavours. We have also recently been working on developing a Naturelly jelly in different formats, again made from real juice and with no preservative or added sugar or sweetener – watch this space.
You can find out more about Naturelly on their website, and you can also find them on Facebook, Twitter and Instagram.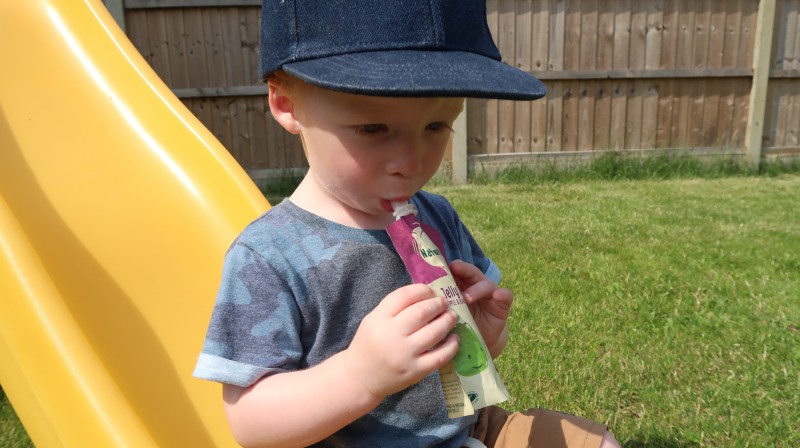 *I received these pouches in return for this review. All views and opinions are my own.